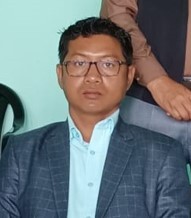 BIO DATA
Name : Puhpa ST. Vanlalmalsawmliana
Designation : Executive Member (Sports)
Constituency : 25 - Siaha West - II
Party Name : Indian National Congress
Number of terms elected to MDC : 1st Term
Email Address :
Father's Name : ST. Khuailinga
Mother's Name : NG. Mawitei
Brother (with full name) : ST. Lalhmingthara
Sister (with full name) : ST. Bawinuntluangi
Date of Birth : 28th May 1984
Place of Birth : Civil Hospital, Siaha.
Marital Status : Married
Date of Marriage : 14.04.2002
Spouse's Name : K. Lalpianmawii (L)
No. of Sons (with full name) : ST. David Rorelliana
No. of Daughters (with full name): ST. Monica
Educational Qualification : HSSLC
Profession :
Permanent Address : Siaha Meisatlâh
Present Address : Meisatlâh, Siaha.
Special Interests :
Church Activities : ECM KTP Vice President, Immanuel
Activities in NGO :
Other Information (if any) :
Mobile Number : 8575678289
WhatsApp Number : 7005109074
Phone Landline (O) :
Phone Landline (R) :