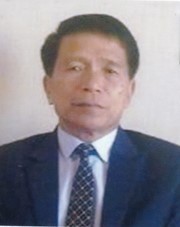 BIO DATA
Name : Puhpa C. Chehnei
Designation: Deputy Chairman
Mara Autonomous District Council,
Siaha.
Constituency: 6 - Chapi
Party Name : Bharatiya Janata Party (BJP)
Number of terms elected to MDC: 1 (one) term (12th Term)
Email Address: chehneichozah@gmail.com
Father's Name: Kilai
Mother's Name: Dawki
Brothers (with full name): 1. C. Teichau (L) 2. C. Chekha
Sister (with full name): C. Ngoche
Date of Birth: 28.8.1961
Place of Birth: Chapi
Marital Status: Married
Date of Marriage: 10.5.1986
Spouse's Name: Sikhai
No. of Son (with full name) :
Daosa Chozah
No. of Daughters (with full name):
1. Seena Chozah
2. Teku Chozah
3. Crossngiarili
4. Bridgette Beihrongia Chozah
5. Dawki.
Educational Qualification: BA, Bed.
Profession: Politician
Permanent Address : Chapi
Present Address: Siaha
Special Interests: Social reform and moral development.
Church Activities: Ex- Finance Secretary, ECM Local Church, Chapi.
Activities in NGO: Ex- MTP President, MTP Branch, Chapi.
Other Information (if any) :
Mobile Number: 8974470165, 9436379922.
WhatsApp Number: 9436379922.
Phone Landline (O) :
Phone Landline (R) :