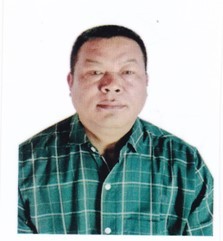 BIO DATA
Name : Puhpa Beihu Nôhro
Designation: Deputy Chief Whip
Mara Autonomous District Council
Siaha.
Constituency: 11 Tipa 11


Party Name : Bharatiya Janata Party (BJP)


Number of terms elected to MDC: 1 Term


Email Address :


Father's Name: N. Laiih


Mother's Name : Mangkili


Brothers (with full name):
1. N. Lalrodinga
2. N. Beihlosa
3. N. Lalrammuana
Sisters (with full name) :
1. N. Fawnveli
2. N. Dintharmawii
Date of Birth: 15th June 1968


Place of Birth: Tipa 'V'


Marital Status: Married


Date of Marriage: 2nd December 1997


Spouse's Name: Lalzahawmi


No. of Son (with full name): N. Beingachha
No. of Daughters (with full name):
1. N. Lalthawmmawii
2. N. Beinosia
3. N. Beinozi
4. N. Lalhriatkimi
Educational Qualification: BA


Profession :


Permanent Address: TipaD-11, Siaha District.


Present Address: College Vaih VC-111 Area, Siaha.


Special Interests :


Church Activities :
Machâ, Ex. Local Secretary, T. Cannan – Tipa, Ex- KTP Secretary & President.


Activities in NGO :


Other Information (if any) :


Mobile Number: 9362860170


WhatsApp Number: 9362860170


Phone Landline (O) :


Phone Landline (R) :